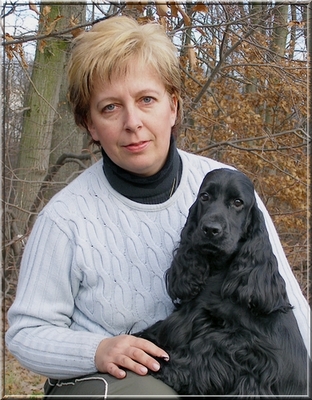 My kennel was established in 1992. At that time, when I bought my first bitch, "Idris z Borové samoty", I did not expect that my love to cockers will become – in addition to my family – not only my hobby, but also the contents of my life, with all beauties, pleasures and sorrows, and with everything that belongs to breeder's work. After two years our cannel was completed by another member, the daughter of "Idris z Borové samoty", (from her second litter) a black and tan bitch "Blithe Virgin Schönez". Under the influence of other fate circumstances, a gold bitch "Emily Gold Star Schönez" and a black bitch "Fergie Schönez Petrs", became also the members of the Schönez kennel for a particular time period. These two bitches participated in further results of my breeding and of my work. In 1998 the kennel was increased by the daughter of "Emily Gold Star Schönez", a black bitch "Her Royal Highness Hillary Schönez". The next black bitch "Roma Schönez Black Petrs", which I bought from Mr. Petr Studeník, began one of new periods in my breeding. More details can be found on her page in the link "Our dogs". The Schönez kennel was increased again in 2003. Even if I had to part from Ida, which still remains written most deeply in my heart, my grief at her leaving was reduced by Hillary's daughter – black "Marionetta" and by Roma's daughter - gold "Nirvana". At the current time, our kennel has been completed by a black bitch from Nina's first litter - "Rachelle" and by a black bitch from Hillary's last litter -"Sonique".



<![if !vml]>
<![endif]>
At my breeder's work, I try to pay the maximum attention not only to exterior features, but also to character properties and to health. Cooperation with new puppies' owners means for me a great responsibility; I try to help them not only during puppies' education, training and care of them, but also submitting my experience from exhibition rings and from my breeding. My reward for this efforts is the good name of the Schönez kennel in our country as well as in the world.



<![if !vml]>
<![endif]>
At the current time, the result of my work is represented by 5 bred generations which I would like to introduce you on these pages.
In this way I would like to thank Mr. Jan Šlachta (Kennel z Borové samoty) and Mr. Petr Studeník (Kennel Black Petrs), whose experience and most of all they themselves have helped me very much all the time during my breeder's work. My big thanks are also devoted to Mr. Jiøí Horák and my friends, couple Radek and Iva Matulovi (Kennel z Èertorájù), whose help at hunting training of my dogs cannot be replaced by anything.



And least but not least – the most important thing. My 15 years' old son Michal is a great support at all my efforts. I hope he will be able to use all my experience and he will continue my begun work. This would be for me probably the greatest reward, which cannot be compared with any of won cups or with any CACIB.






Zpìt / back